---
The rewarded poster with the title: "Autochthony in the early medieval settlement of Thunau/Kamp, Austria? A question explored by 87Sr/86Sr isotope ratios using MC-ICPMS" shows first results of Sophie Gangl's Master thesis. The work is currently carried out in VIRIS Lab, Division of Analytical Chemistry at the Department of Chemistry under the supervision of Thomas Prohaska and Johanna Irrgeher. The renowned prize includes the admission for the EGU General Assembly 2014.
The Master thesis is conducted in close collaboration with the Divison of Anthropology of the Natural History Museum in Vienna (head: Maria Teschler-Nicola). It addresses the reconstruction of the autochtony of the population of the early medieval (9th to 10th century AD) settlement in Thunau/Kamp in Lower Austria using Strontium isotope ratios. The strontium isotopic signature is characteristic for a distinct geological region and gives an indication on possible places of origin of an individual, provided that the food came from the close proximity or the food sources are known.
In the course of this study, the 87Sr/86Sr ratios of historical enamel samples of human individuals were determined using multi collector inductively coupled plasma mass spectrometry and compared to the isotopic signal of environmental samples from the vicinity of the excavation site. In this way, insight into the mobility of the population of the settlement in Thunau/Kamp could be provided.
The European Geosciences Union is Europe's premier geosciences union. The EGU General Assembly is an annual international conference series.
Web site VIRIS team:
http://www.chemie.boku.ac.at/3374.html?&L=1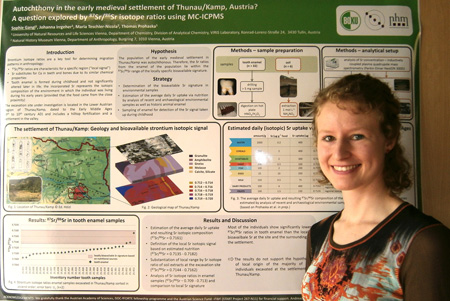 ---