---
More information in English:
One of this year`s Theodor Körner prizes in recognition of scientific advances was awarded to Alba Hykollari for the financial support of the project "Comparative N-glycome analysis in filamentous fungi". Structural elements of the fungal N-glycome from different human pathogenic and non-pathogenic species will be determined during this project.
http://www.chemie.boku.ac.at/7975.html?&L=1
More information in German:
Ein Theodor Körner Preis aus dem Gebiet der Medizin, Naturwissenschaften und Technik ging dieses Jahr an Alba Hykollari für ihr Projekt zur Untersuchung der N-Glykanepitope in filamentösen Pilzen.
Vergeben wird der Preis vom Theodor Körner Fonds, der im Jahr 1953 anlässlich des 80. Geburtstages des damaligen Bundespräsidenten Theodor Körner gestiftet wurde. Seitdem werden jährlich herausragende Arbeiten von jungen WissenschafterInnen und KünstlerInnen gefördert, die schon jetzt exzellente Arbeit leisten und von denen noch weitere innovative Arbeiten erwartet werden können.
Die Preisverleihung fand am 25. April im Rahmen eines Festaktes im großen Festsaal der Universität Wien statt. Anschließend lud Bundespräsident Heinz Fischer zu einem Empfang in der Wiener Hofburg ein.
Alba Hykollari ist derzeit Mitglied der Arbeitsgruppe "Molekulare Glykobiologie" am Department für Chemie, geleitet von a.o. Prof. Iain B.H. Wilson. Sie hat im Jahr 2012 über die N-Glykosylierung des Modellorganismus Dictyostelium discoideum promoviert und arbeitet derzeit an der Erforschung der N-Glykanepitope in opportunistischen pathogenen (z.B. Aspergillus fumigatus), filamentösen Pilzen. Der Förderpreis ist projektgebunden und wird die detaillierte Analytik von spezifischen Zuckerketten verschiedener Pilzarten finanziell unterstützen.
Weitere Informationen:
http://www.chemie.boku.ac.at/7975.html
http://www.theodorkoernerfonds.at/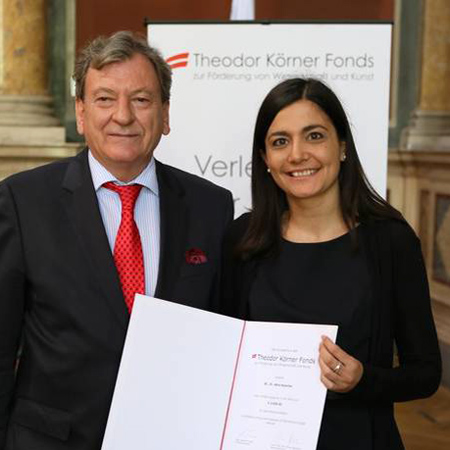 ---