---
Mission Statement
The main objective of BOKU's quality management system (QMS) is to support BOKU in achieving its (strategic) objectives. The documentations and illustrations were developed to allow the BOKU staff members a quick orientation in processes and procedures and facilitate everyday working practices. Participation in the QMS is intended and should further build and strengthen a continuous quality culture in all performance areas (the core areas are academic study and teaching, research as well as in cross-sectional tasks).
Quality Perception
BOKU's quality perception focuses on the goals "fitness of purpose" and "fitness for purpose".
For more information: Quality Management System BOKU

Trough concrete measures quality is constantly achieved by all members of the university and at all levels. BOKU's "quality culture" is based on existing quality consciousness and on the quality oriented actions towards the goals of the entire university. It is achieved by actively including all employees and students at the University of Natural Resources and Life Sciences.

Goals
Enhancing the quality management system in regard to evaluations, quality assurance, quality management and quality development
Conducting evaluations and measures of quality assurance
Developing of concepts and tools at BOKU as well as on an international level
Certification of the quality management system
In 2014 the quality management system of BOKU conducted the quality audit under the terms of the Hochschul-Qualitätssicherungsgesetz and was certified by the agency AQ Austria without imposed conditions for 7 years (until September 2021).
Accordingly, BOKU is authorised to display the quality seal of AQ Austria, as depicted below: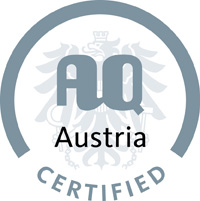 Management and Administration